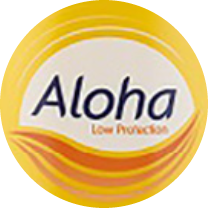 Aloha
Aloha Suncare is a premium yet affordable range of suncare that's suitable for the whole family. Providing broad spectrum resistance against harmful UVA and UVB rays, each of the products within the range are dermatologically tested, water resistant and achieve a minimum 3 star UVA rating.
Aloha UltraLite is developed to be ultra-lightweight and promises fast-absorption and a non-greasy finish, whilst Aloha Kids is specially formulated for children up to SPF 50. Aloha Aftersun features vitamin E and aloe vera to soothe, refresh and hydrate the skin. The range appeals to consumers with strong branding, ensuring a high-quality product offering that sells.
British-made sunscreen products
British-made sunscreen products
As a UK-based Aloha sun lotion manufacturer, each product is manufactured in Britain at our purpose-built UK-based manufacturing facility. The Aloha sunscreen and aftersun range features value-driven products in appealing packaging and is an affordable solution for families. By partnering with us, you'll benefit from our end-to-end fulfilment process to produce your orders efficiently on time and in full, enabling you to stock your shelves with cost-effective Aloha suncare products.
"We are proud of every Aloha suncare product we produce and make the range to the highest standards. We continue to look at manufacturing efficiencies to cement our value-led proposition for retailers and to make sure end consumers can choose high-quality affordable sunscreen and aftersun."
Our Values